On Friday, September 20, Roger Goodell promised to bring integrity back to the NFL. Or did he?
The NFL Commissioner stood behind a podium and talked ambiguously about mistakes—mistakes he had made and mistakes he was sorry for—but he didn't define precisely how he would correct those mistakes.
Typically, leaders hold a press conference to announce something bold and newsworthy—such as the definitive changes they've made to amend previous errors. But that wasn't Goodell's objective.
In the beginning of his speech, Goodell seemed awfully upset, his voice was sincere and his words were emotional. But his message meandered and what started off as an apology later focused on the lack of staffing and funding for the National Domestic Violence Hotline. He then deflected a highly pertinent question about why the NFL had not acquired the infamous Ray Rice video.
If Goodell wasn't there to address the facts, what was he trying to accomplish?
The apology epidemic
In case you haven't noticed, apologies are on the rise. Today, every politician and celebrity wants his or her moment in the mea culpa spotlight. Last February, Andrew Ross Sorkin wrote a column for The New York Times saying:
"The age of the apology is clearly upon us—and it is not just about being polite. It has become de rigueur, an almost reflexive response among leaders to a mistake or, worse, a true crisis.
The art of the apology has become a carefully choreographed dance: Say you are sorry, show everyone your vulnerability, tell everyone you are 'taking responsibility' and then end with, 'I hope to put this behind me."
Three models of apology avoidance
During this spate of apologies, which Sorkin references, a few specific models stand out. Some try to touch us with their display of emotions while others want us to believe they were earnest all along—and the apology itself isn't really necessary.
Each public figure selects a model that best reflects his strengths.
Apology Model #1: "All The World's A Stage"
Demonstrated here by Governor Chris Christie, the crux of this model hinges on a belief that the speaker can reduce the public's thirst for the truth through emphatic demonstrations of concern and care. In fact, the more emotional the delivery, the less valid it needs to be.
Unfortunately, Christie's theatrics backfired on him. The number of New Jerseyans who believed the governor was at least somewhat responsible for the lane closures actually increased from 34 percent to 50 percent after his apology.
Apology Model #2: "My Mom Said So…"
This apology aversion tactic is practiced on schoolyards across the country. Adrian Peterson recently applied this model to his not-so-apologetic defense of hitting his four-year-old son saying that he was only mirroring the behavior of his parents.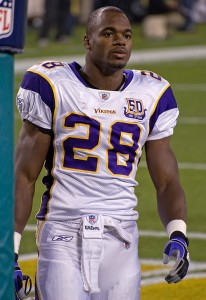 Unfortunately, when Peterson's mom, Bonita Jackson defended her son's behavior, she didn't help matters, saying, "When you whip those you love, it's not about abuse, but love. You want to make them understand that they did wrong."
Apology Model #3: "Smoke and Mirrors"
Yes, this model is the one Roger Goodell selected. It was a smart move for someone with good looks who has always held the admiration of his peers. The assumption is that his relationships with the team owners are so strong that no one really wants to see him step down.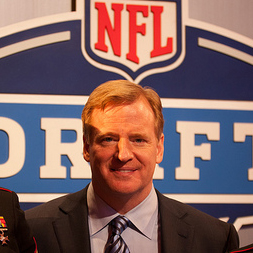 By all accounts, it seems that Goodell chose the right model for his well-choreographed apology.
The Seinfled-esque press conference
The classic sitcom about nothing was often aloof and detached from reality. Friday afternoon's press conference didn't announce specific changes or herald a new era for the NFL. It was essentially a media opportunity about nothing. Or was it?
On Sunday afternoon, while trying to watch football, I found myself flipping channels instead. And that's when it hit me: a press conference scheduled at the last minute; the lack of clarity and purpose in Goodell's message; and the timing—late Friday afternoon before the weekend…
It was a marketing ploy for people like me. NFL ratings fell last weekend and someone realized that if people develop new habits on Sundays, those ratings might not bounce back up.
Is it working?
The answer to that question depends on who you ask. Directly after the press conference, news outlets reported that Procter and Gamble's Crest brand had canceled its sponsorship of NFL breast cancer awareness activities slated for October. According to Mashable, "Roger Goodell's Press Conference Really Pissed Off the Universe."  One of the tweets highlighted in the Mashable piece says: "Roger Goodell is the only person who has not considered Roger Goodell resigning," by @RedSoxRedShoes.
However, it appears that Goodell's not-too earnest apology might just work for him. According to the Bleacher Report, Goodell "Isn't Going Anywhere."
What do you think?
What do you think? Is that the best the NFL can do or is there a real opportunity for change in this organization?
And what about the flimsy state of apologies from people in leadership roles? Is it enough to say, "I'm sorry" or will leaders need to show action?